Skip to Content
CCCF Awards $5000 to Help Support the Cheboygan Area Pure Michigan Campaign.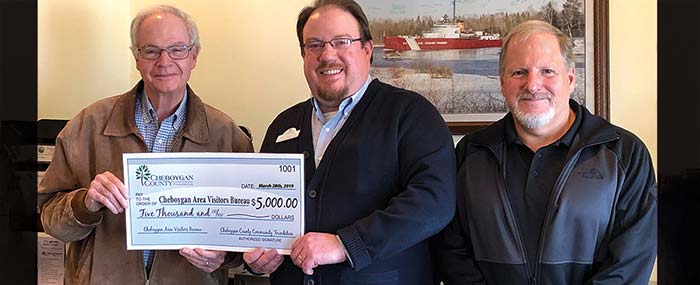 Cheboygan County Community Foundation Board member Jim Conboy recently presented Scott Herceg & Scott Beard from the Cheboygan Area Visitors Bureau a check for $5000 to help promote and fund the Cheboygan Area Pure Michigan campaign.
In November, the Cheboygan County Community Foundation pledged to contribute $1 for every $5 raised by the Visitors Bureau up to $5000 to help encourage additional contributions. The Visitors Bureau has committed a substantial portion of their own budget towards this endeavor but can not do it alone. Several generous contributions have been pledged to show support for this ongoing advertising campaign.
Cheboygan will be one of the "Featured Destinations" with Pure Michigan which will increase visitor traffic throughout the entire year. Ongoing pledges are vital and will ensure Cheboygan continues to reap the benefits of the highly successful Pure Michigan campaign for years to come.