Skip to Content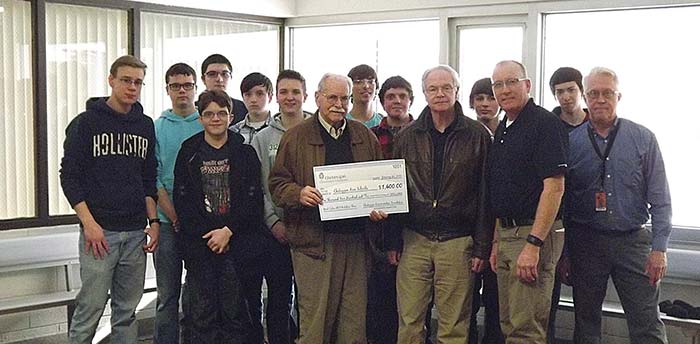 Cheboygan Communities Foundation President and CEO Richard B. (Dick) Sanford and board member Jim Conboy are shown here presenting $1400 to Ron Hart – Construction Trades teacher, Charles Miller – Paraprofessional Construction Trades and students of the Cheboygan Area High School Building Trades program.
In January, the Cheboygan Communities Foundation agreed to provide funding for six students and two teachers to attend the Great Lakes HBA Builders Show in Novi, Michigan on February 17-18th. The foundation also made arrangements for them to meet with northern Michigan builders, remodeling and historic preservation specialists which will hopefully result in long term relationships with the students and Cheboygan Area High School.
This is an incredible opportunity for students and teachers to gain information from the industry that we normally would not be able to see first hand, given our location. The Construction industry is rebounding everywhere at a very fast pace. The industry will need workers to fill all areas in construction and students coming out of high school can get right into a really good job. They can do this without much more training than they are getting right here at Cheboygan Area High School. The students are really excited, we tried to go last year but we did not have the funds.
"The Cheboygan Communities Foundation is really doing a great job helping to bring jobs to this area."
Ron Hart, Construction Trades teacher