Skip to Content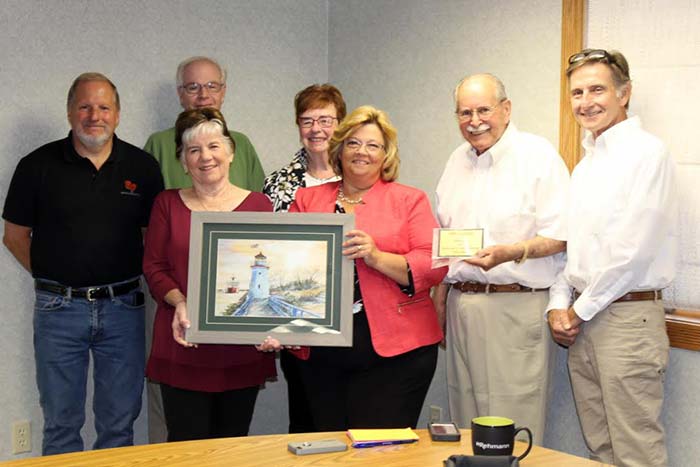 No company, organization, or foundation can survive for long without accounting and clerical assistance. This is particularly important for a foundation that cannot afford to have a good share of their donations go to clerical and accounting professionals.
The Cheboygan County Community Foundation is so fortunate for the assistance provided to us by Rehmann. They cover both clerical and accounting work for the foundation at no cost. They also provide meeting space occasionally. This generous gift to the foundation was initiated by Annette Eustice, CPA, CGFM Principal for Rehmann.
The CCCF Board of Directors was able to show Annette and Rehmann our sincere appreciation by awarding a color rendering of the Cheboygan lighthouse created by Larry Falardeau. This framed piece of art will hang in the Rehmann offices and is meaningful since we discovered that Annette had been bidding on this particular piece of artwork at the Soups, Sliders & Sweets fundraiser held last October. Unfortunately, she lost to another bidder. Then she found the winning bid went to her husband Tom Eustice. He has that drawing hanging in the City Manager's offices.
This gift to Annette Eustice is particularly appropriate since the artwork is titled "Guardian of the Lakes." Annette and Rehmann are truly the "Guardians" of the Cheboygan County Community Foundation.